Background
This Estate brought an occupied hoarding situation that consisted of a 1,600 sq. ft. Cape Cod filled with decades of hoarding debris. The PR was the family's attorney and the Estate was insolvent and falling behind in mortgage payments. The goals were simple, yet daunting and extremely difficult to achieve due to the hoarding situation and financial difficulties:
Get the house cleared and cleaned out
Pack and distribute personal property to various locations
Sell the house quickly for the highest price possible
Challenges
Multiple challenges encumbered the Estate. One of the decedent's grown children was living in the home and unemployed. Nothing had been done to prepare the home for sale. At the point Trusted Estate Partners became involved, the challenges faced included:
The Estate was behind on mortgage payments
The family had no plan to clean out the hoard
The house was in major disrepair and outdated
There was no money in the Estate
Nothing had been moved out of the house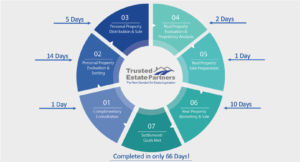 Logistics
Trusted Estate Partners needed to act quickly to create a Personalized Plan to have the house cleaned out. They assembled a team of alliance partners and supervised the work to ensure everything that needed to be done would be completed on time. Because the property was occupied, and the hoarding significant, careful project management was imperative – as was sensitivity to the residents. Trusted's role became that of mediator and manager in order to get the job done. Skillful handling of the logistics ensured the house was cleaned out and sold "as is-where is" quickly, averting potential foreclosure.
Results
Using their proprietary analytical model, and in-depth market analysis, Trusted Estate Partners evaluated all options and feasibilities for a high-net, quick sale of the house. The property condition, impending foreclosure, and the Client's need to get out quickly were all factors in determining that competitive bidding via the auction sale method would be best for this Estate.
Benefits to Client and Estate:
House was totally cleaned out (in advance of payment)
Timing met the Client's needs (under contract 10 days after auction announcement and open house preview)
The Estate netted $18,000 more than expected (no realtor commissions or closing costs paid by the Estate)
Closing took place in 19 days (due to cash sale)
Testimonial
"Trusted Estate Partners clearly exceeded my expectations. They were extremely professional, knowledgeable, hardworking and on top of every detail. I have already recommended them to others. In fact, at the last Estate and Trust Section meeting of the Montgomery County Bar Association, I stood up and told the entire gathering of 50 to 60 other attorneys who do similar work what my experience had been and what a great job Andy and Amy had done, and that I highly recommend Trusted Estate Partners."

– Gerald Gimmel, Attorney