Background
The estate consisted of a ranch style house packed to the rafters with many years of hoarded items, including hundreds of unopened packages from the Home Shopping Network. The PR, brother of the deceased, had to travel from out of state in order to manage the estate liquidation. The following things needed to be done:
Determine items of value (get certified appraisal)
Sort valuable belongings from hoarded debris
Pack and transport items for auction
Pack and deliver items to donation centers
Sell the house for the highest price possible within the quickest timeframe possible
Challenges
The money in the estate was tied up in the house, which still had an outstanding mortgage, and there was also significant credit card debt. The PR lived 1200 miles away, didn't know anyone in town, and wasn't able to stay in the house because there was no room. He had planned to stay in a hotel for a full month to get things done, but then his attorney referred him to Trusted Estate Partners and he turned the entire process over to them. The following challenges remained:
Finding the right alliance partners for the job
Sorting saleable goods from debris
Outstanding mortgage and debt against property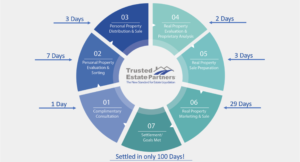 Logistics
After assessing the situation and needs, Trusted Estate Partners designed a Personalized Plan to meet the Client's goals and timeline. The PR was able to entrust the process completely to Trusted Estate Partners and no longer needed to travel to the estate. In this unique hoarding situation, it was important to separate the high-end saleable goods and donatable items from the debris and un-useable items. Trusted Estate Partners assembled the appropriate alliance team, who in turn set up tents to remove and sort items from the house. They sent the auctionable items to the auction house… and sale of these items more than covered the entire clean out cost.
Results
The Client and his wife had planned to stay in a hotel for a month in order to manage the liquidation of the estate. Trusted Estate Partners enabled them to return home in 3 days. Using their proprietary tools, analytical model, and in- depth market analysis, Trusted Estate Partners evaluated the feasibility of every sale option for the house. Selling through auction resulted in a net positive for the estate.
Benefits to Client and Estate:
House was sold in "as-is" condition, with no contingencies
House sold at $100,000 above the reserve price
Sale of auctionable items covered clean out cost
Estate netted $70,000 despite anticipating a loss
Testimonial
"I can't say enough about Trusted Estate Partners. I thought 'I'm going to need so many different professionals to get this estate settled.' They were all of that rolled into one! I had everything from a real estate agent, to movers, auction people, house cleaners, and people dealing with the legal side. They were as kind and thoughtful as anyone could be. They were concerned with our loss first and foremost, but that didn't impede their professional ability to get the job done quickly. Having this referral was spot-on. I would have had to deal with all these people, and suspend my life at home for the months it could have taken to do that. I couldn't have scripted the outcome any better."

– Randy Meyers