Background
The Estate  was located on a beautiful corner lot in a desirable neighborhood in Laurel.  A relative had died, and the PR was working with a paralegal to settle the Estate.  Updated homes in the area were selling between $400-500,000.00, but this house was in complete disrepair and would need a total renovation.  Due to its condition, it could not be listed like a traditional home sale.
The PR was ready to accept a $250,000 "cash offer" from an investor.  After discussing this with his legal representative, the paralegal referred him to Trusted Estate Partners (TEP).  She advised that TEP was known for its proprietary analytical sales model and could do a better job positioning the house and selling it for the highest possible price.
Challenges
The house was in such disrepair that it was in no shape to be marketed as a standard listing.
The PR was eager to accept the investor offer because he wanted to sell quickly.  TEP had to help him overcome the desire to take the first offer, and give him the confidence to go through with auction.
TEP had to educate the PR regarding the auction process and show the method by which they could achieve a higher price for sale of the house.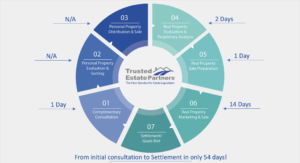 Logistics
TEP reached an agreement with the PR that since he was willing to accept an offer of $250,000, TEP would set that as the reserve price (meaning that they could assure him $250,000 or more). TEP positioned the sale as an "As Is" auction, with no contingencies. TEP created auction marketing materials designed to reach a vast number of investors through their proprietary database, in addition to the "As Is" auction listing they posted on BrightMLS® to attract realtors representing investors. TEP used a "Property Blast" tool to send marketing flyers directly to the email in-box of more than 23,000 realtors in the surrounding areas.
Results
The auction took place during a three-week period. TEP received multiple bids during that period escalating from $250,000 up to the final winning bid of $354,000.  There were 61 bidders participating and the price went up by $50,000 in the last five minutes of the auction!
Benefits to Client and Estate:
Auction achieved $114,000 above the initial offer PR was willing to accept (32% gain for the Estate).
No contract contingencies.
Settlement within 30 days from ratified contract.
No commissions paid by the estate.
No transfer taxes paid by the estate.
No settlement costs paid by the estate.
Final result – ecstatic Client!
Testimonial
"Trusted Estate Partners doesn't apply a one-size-fits-all solution to everything. They were extremely thorough in analyzing what was the best way to sell the property, and helped the client avoid some lowball cash offers that were tempting early on.  Andy was adamant that there was so much more value in the home, and he was right!  In the end the property sold for $114,000 above those initial offers.

Trusted Estate Partners takes over the day-to-day operation of having to deal with the preparation, marketing, and even the emptying of the homes for us. They step in and take full control of the property and everything that happens there, and we don't have to worry. So much value is added by the contacts they bring to the table, contacts that only Amy and Andy could bring together!  And they have a calming effect that helps even conflicting personalities come together.  As soon as I have an estate where I am able to bring in Trusted Estate Partners, I start to breathe easy."

– Julie Lucas, Paralegal