Background
A client called Trusted Estate Partners needing to move his father into an assisted living community. The client was planning ahead and also had M.S., making an already difficult process all the more challenging. Two weeks from the initial call, we received a second call that his father's condition was in rapid decline and a room became available in a community that was on the short list and they needed to decide on whether to take the room within seven days. Here is what we needed to do:
Contact a "Senior Move Manger" alliance partners who may be available to create a floor plan and move.
Arrange for an auctioneer to pick personal property.
Clean out remaining personal property.
Sell the Condo in "as-is" condition for the highest price.
Challenges
This downsizing presented multiple challenges. Trusted only had seven days notice. The client had limited mobility. The condo was in an "over 55 community." Here is what needed to be done:
A Senior Move Manager needed to get the job done in seven days.
Figure out the fastest way to sell the condo for the highest net possible, in a "55 and over" community.
Clear out and dispose of the remaining personal property in order to get the condo ready for sale.
Plan and implement a marketing strategy that would attract buyers who qualified to live in a "55 and over" community.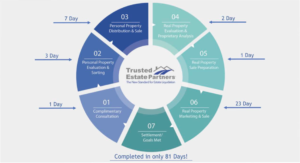 Logistics
In this case the logistics were complicated as the Client's father had been rushed into assisted living while the Client himself had physical challenges that Trusted Estate Partners needed to work around. They were also in a position where they needed to to act quickly and responsibly to properly assess the situation in order to fulfill the Client's needs. Trusted's highest obligation was to customize a plan to meet their Client's needs and goals, all of which included an extraordinarily short timeline. The situation at hand was unique and challenging and would take extra diligence and care to ensure an accurate and successful coordination in accordance with the plan.
Results
Using their proprietary analytical model and tools, and their in-depth market analysis, Trusted Estate Partners evaluated every sale option for the house. They considered the existing mortgage, associated holding costs, time of year, and the Client's need to move quickly, and determined the auction method of sale to be suited to meet the Client's goals and net the most for the Estate.
Benefits to Client and Estate:
The Client's father moved into assisted living in one week.
Client's physical challenges were overcome to achieve all of the Client's goals.
The condo sold to an age qualified buyer for above the reserve price.
Testimonial
"I bought the Gambrills condo for my parents. Without Amy and Andy, it would not have been possible. Because I own of couple of other homes (one property located in California), it was very difficult to secure funding. Amy and Andy have a great network of resources, including private lenders. I needed to refinance the California property so I could get the cash needed to secure funding for the condo. Amy and Andy somehow coordinated two lending sources to work in tandem to get it done. Had they not, I would not have been able to buy the condo. Amazing work… Thank you both!"

– Dwayne