we take care of the house and everything in it
Exceeding Expectations
"Without this recommendation we wouldn't have known where to turn. Andy and Amy walked us through the process and took care of every issue..."

- Dana Evans
View
Client-driven Solutions
"I would not hesitate to recommend their services and encourage you to suggest their services to your clients"

- Val and Brad S.
View
Hoarding overcome
"Trusted Estate Partners clearly exceeded my expectations. They were extremely professional, knowledgeable, hardworking and on top of every detail. I have already recommended them to others."

- Gerald Gimmel, Attorney
View
Downsizing 911
"Working with Trusted Estate Partners... was the best decision my family and I could have made."

- Rick
View
Expedite the estate liquidation process with a trusted partner who manages all of the minutiae and eliminates the stress your Clients would otherwise experience in trying to navigate the process on their own.
Streamline the estate liquidation process with a trusted partner who serves as an extension of your team, managing the details while helping ensure that fiduciary responsibilities are met – and helping net the most money possible for each Trust.
Eliminate the stress and simplify the otherwise chaotic estate liquidation or downsizing process with a trusted partner who carefully orchestrates every detail on your behalf – taking care of the house and everything in it.
The New Standard for Estate Liquidation
Trusted Estate Partners has established The New Standard for Estate Liquidation – a simplified process whereby we orchestrate every detail on behalf of our Clients and eliminate the stress they would otherwise face if attempting to navigate the process on their own.  Implementing our proprietary Seven-Step Circle of Service and Support, we cohesively manage the process with as little or as much participation as desired by our Clients. Our exclusive business model is underpinned by our real estate expertise and our team of carefully vetted alliance partners encompassing all of the disciplines necessary to maintain a cohesive process and ensure the best outcomes for every Client every time.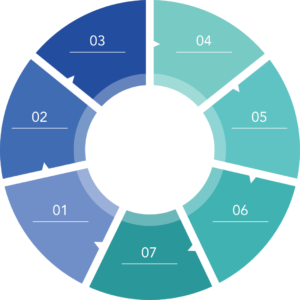 If you need assistance with an estate, we are happy to help.
"Due to the fact that I lived over an hour away from my Aunt's house, Trusted Estate Partners became the point of contact for the insurance adjuster. They were also the physical point of contact for the HVAC company. Andy was there to meet with the roofing company and was there to meet with the pool company. They also coordinated the auction of my Aunt's house."
"It wasn't an issue of hoarding, it was a very severe case of hoarding. Trusted Estate Partners took care of the job completely and coordinated the whole thing."
"I know we've said it numerous times in between, but we do want to express our appreciation to you both for your understanding, support and expertise as we navigated the duties of estate administration. Throughout the process, you truly were our Trusted Estate Partners"
"Can't say thank you enough to Amy and Andy at Trusted Estate Partners. When my sister-in-law passed away unexpectedly last November we were faced with sorting out a life that was in total chaos. As we live 4 hours away, it was a daunting task. We had to wade through mountains of debris in her home to just find pertinent papers that we needed as the Executor, as well as trying to clean out and get the townhome ready to sell. Trusted Estate Partners was recommended to me by the lawyer we engaged to facilitate the probate process. Without this recommendation we wouldn't have known where to turn."